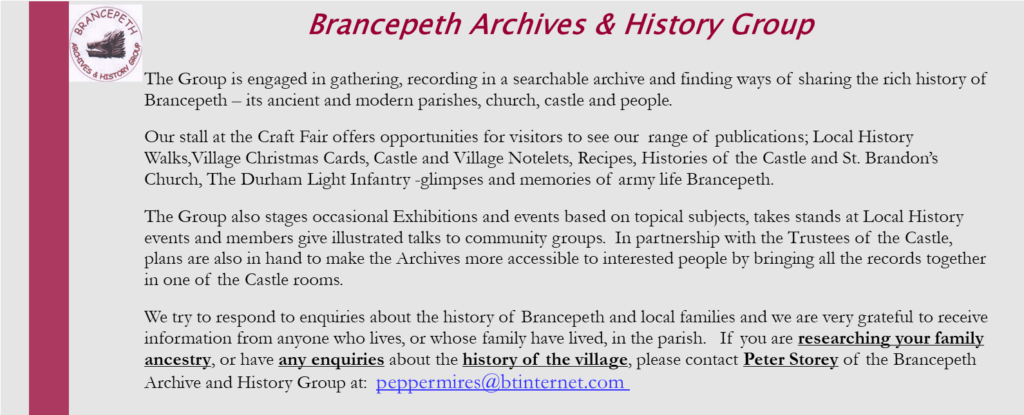 ---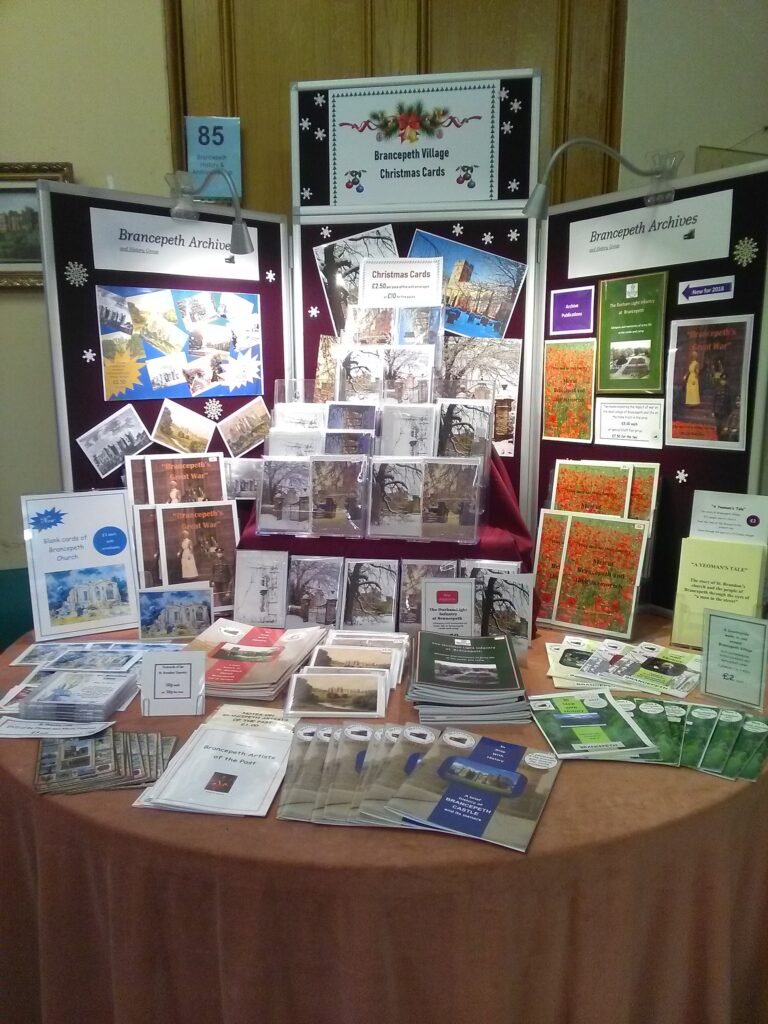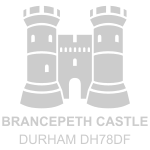 ---
Publications for Sale below:
To purchase items please email the Secretary: 17vivienne@gmail.com
Postage free within the parish. For postage outside the parish please add £2 for booklets and £1 for all other items.
---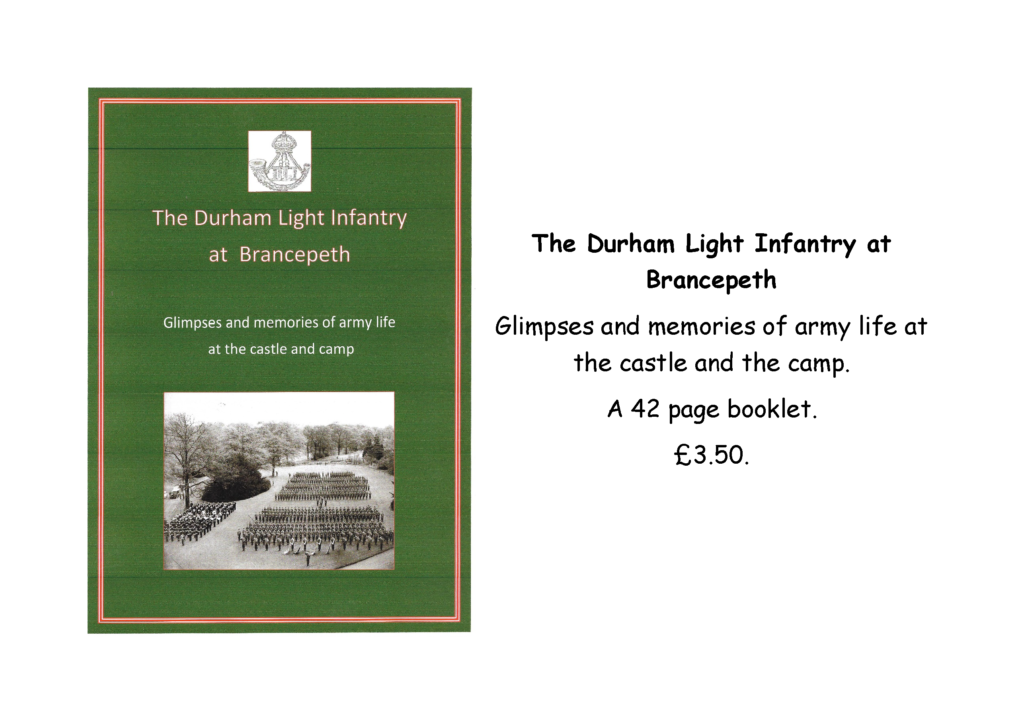 ---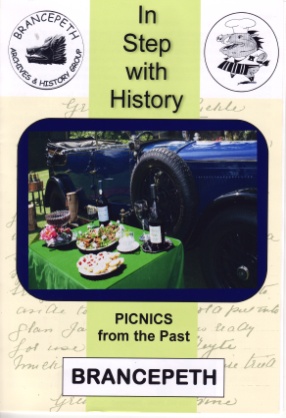 Recipe Leaflets

Two leaflets of recipes which may have been produced by the cook at
Brancepeth Castle in times gone by, together with historical notes:-
1. Picnics from the past – Price: £3
2. Afternoon teas from the past – Price £3
---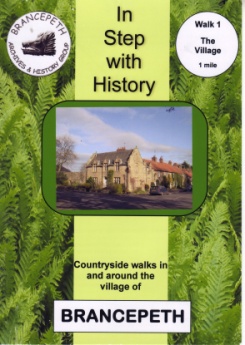 Walks Leaflets
A series of seven leaflets describing walks in the Brancepeth area, presented in waterproof envelopes and containing directions and notes on the history of places encountered on the way:-
1. The Village. (1 mile)
2. Park House Farm (4½ miles)
3. Scripton Gill (3 miles)
4. Standalone Wood (5½ miles)
5. The Ancient parish of Brancepeth (7 miles)
6. Brancepeth and Stockley Common (5 miles)
7. The Deerness valley and railway (4 miles)
8. The Ancient Manor of Brandon (3 miles)
Price: £2 each or all eight for £14.
---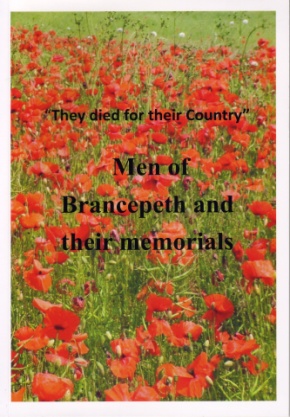 "They died for their Country"

A 77 page booklet paying tribute to the men of
Brancepeth Parish who gave their lives for their
country in the nineteenth and twentieth centuries.

Price £5
---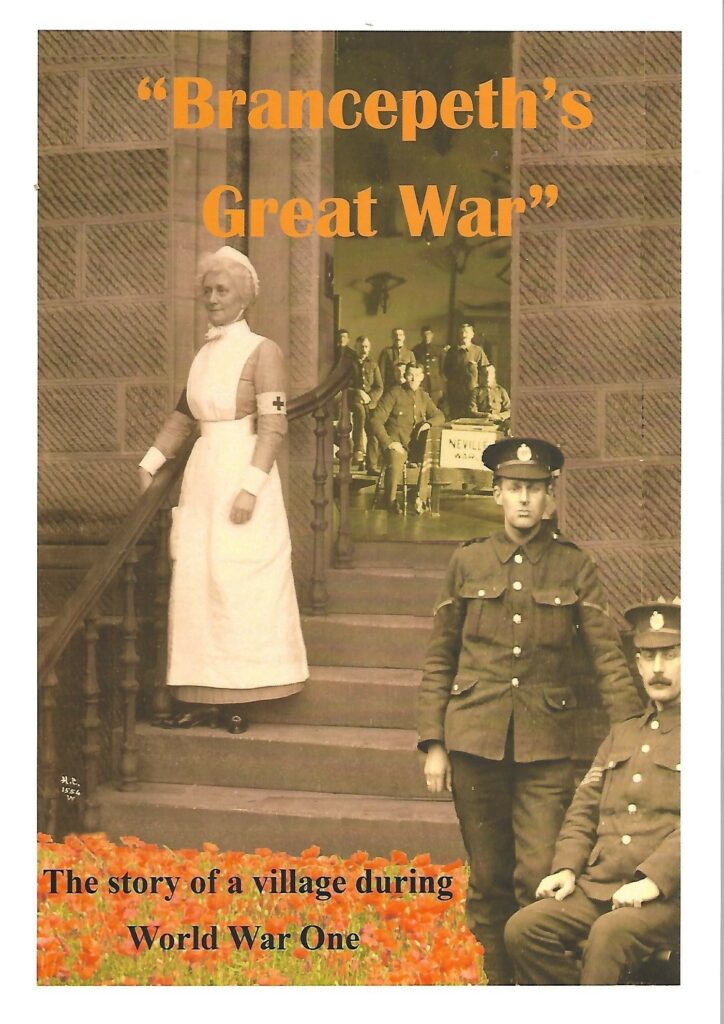 "Brancepeth's Great War"
A 100 page booklet telling the story of Brancepeth parish and its people during World War One and its Castle as a wartime hospital. Price £5.
Buy a copy of both books for £7.50.
---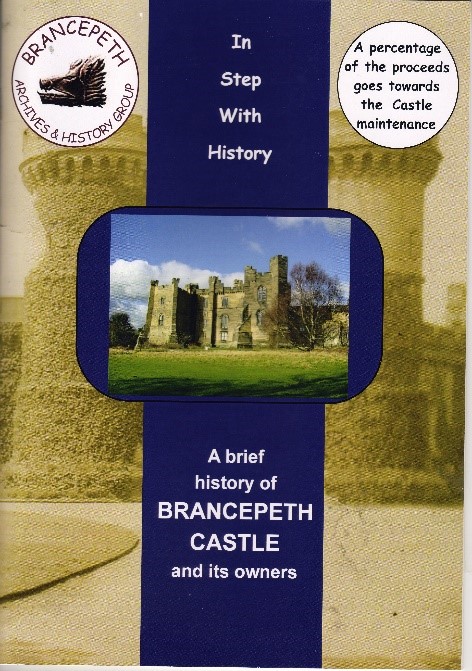 A brief history of Brancepeth Castle and its owners. 14 pages for £3.00
---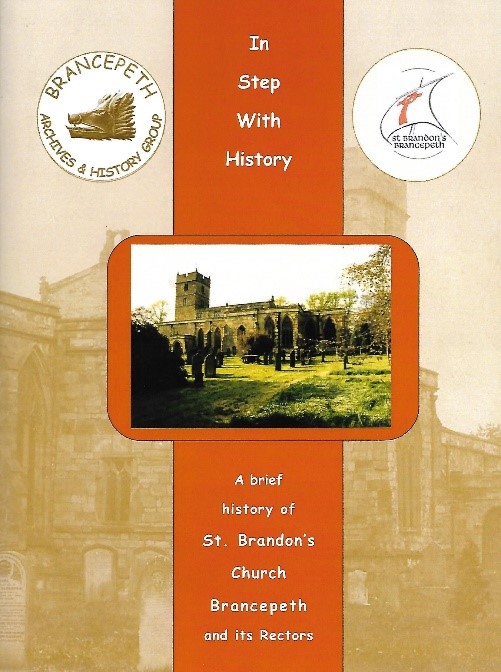 A brief history of St. Brandon's Church, Brancepeth and its Rectors. 24 pages for £3.
---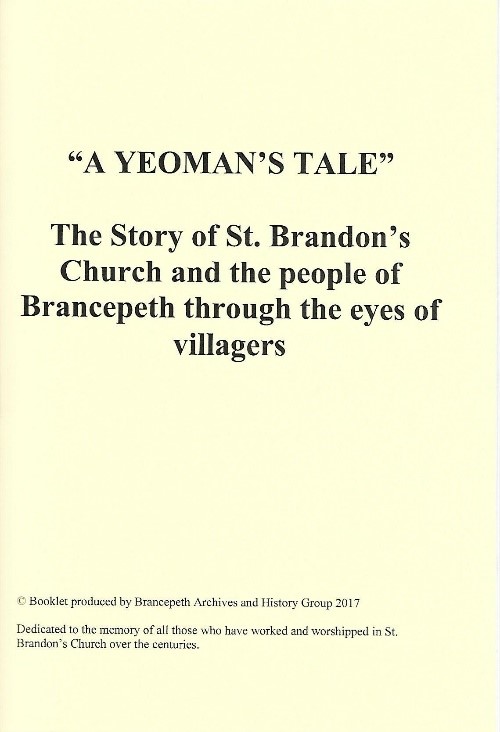 "A Yeoman's Tale". The Story of Brancepeth Village and its people. Told through the eyes of fictitious villagers'.
Price £2
---
"Browney Points – the way to Maurice Chevalier's success" The story of the fascinating links between the First World War, the village of Browney Colliery, a schoolteacher and an international mega-star.  Price £2.50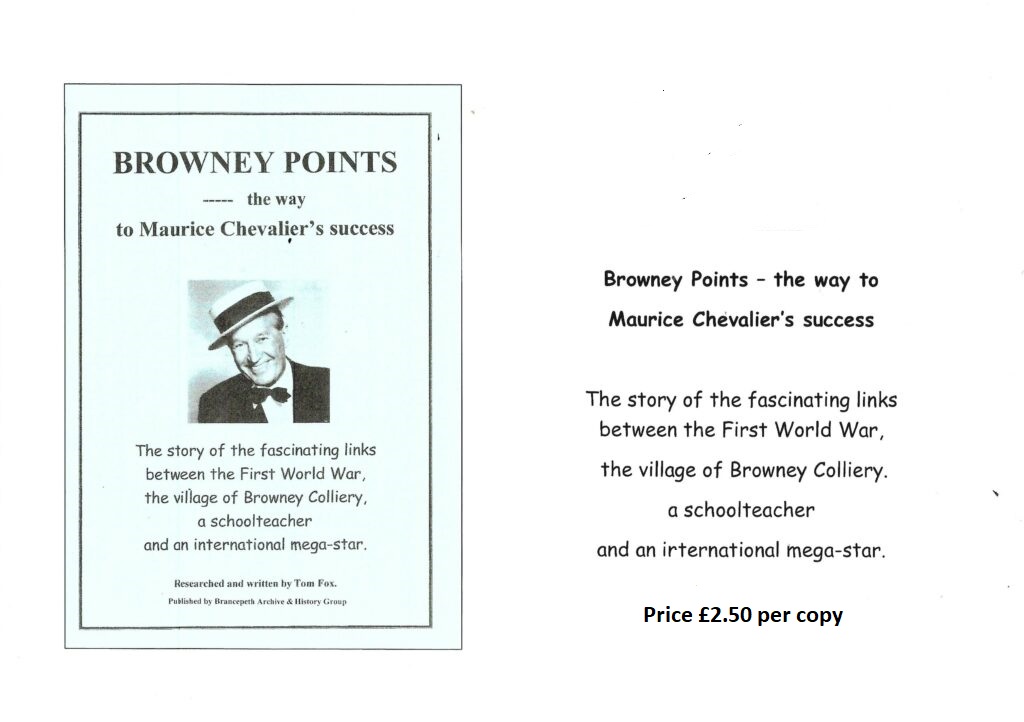 ---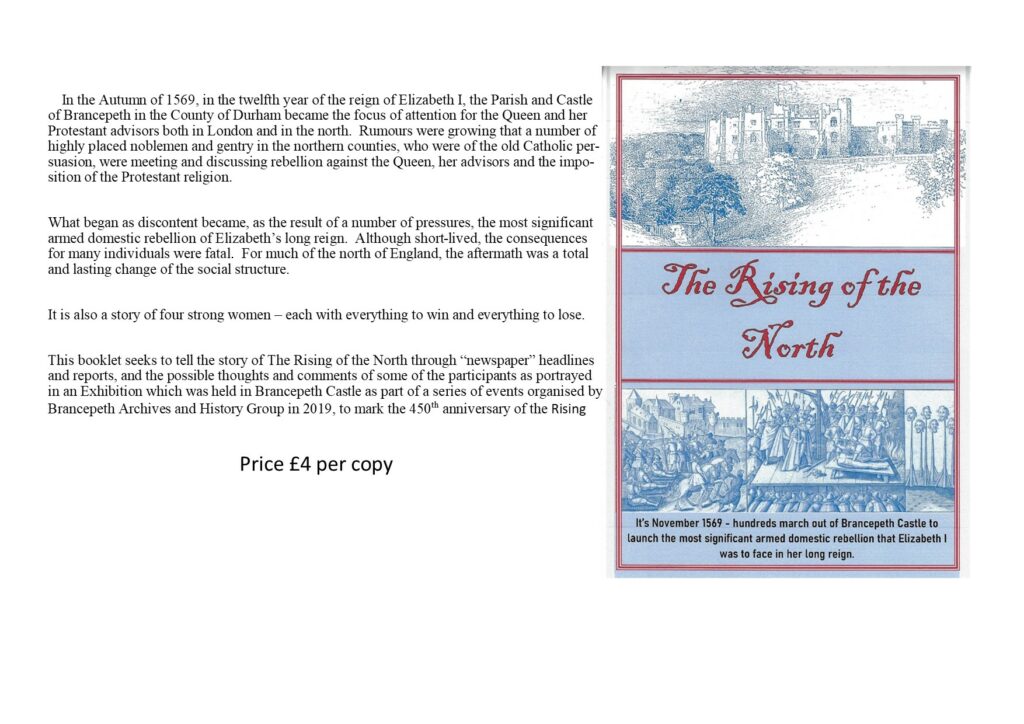 Miscellaneous Leaflets Price £2 each

1. "Alfred and Aunt Elizabeth", the story of Alfred Lord Tennyson and his aunt, Elizabeth Russell of Brancepeth Castle.

2. " Leonard George Crawley", a biography of this international golfer and cricketer who was the son of the agent to the Brancepeth Estates.
---
CD's Price: £10 each
"Who was who in Brancepeth". A CD containing over 400 pages with brief biographical notes on over 4000 people who have either lived in, or had a connection to, the parish of Brancepeth from 1066 to the present day. Updated weekly"
---
Notelets
A pack of five assorted historical pictures of Brancepeth Castle with envelopes. Price: £2.50 per pack.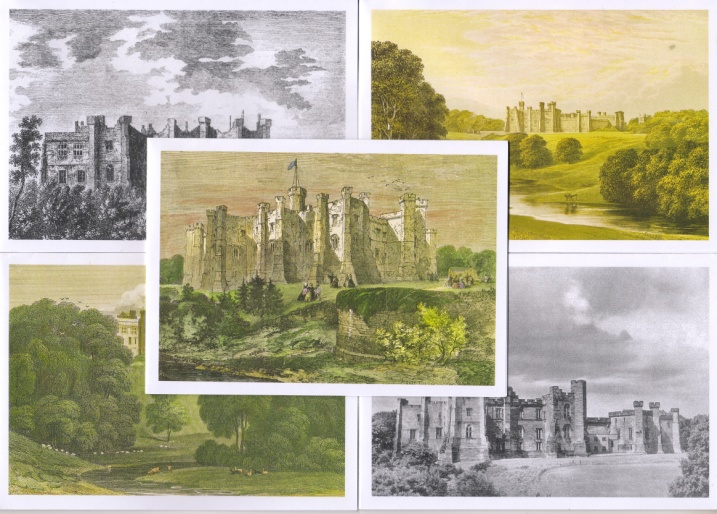 ---
Christmas Cards
Available in packs of five of one design with envelopes. Message inside reads 'Season's Greetings'
Prices:
Coloured cards £2.50 per pack, two packs for £4.00
Black & White cards £2.00 per pack, two packs for £3.00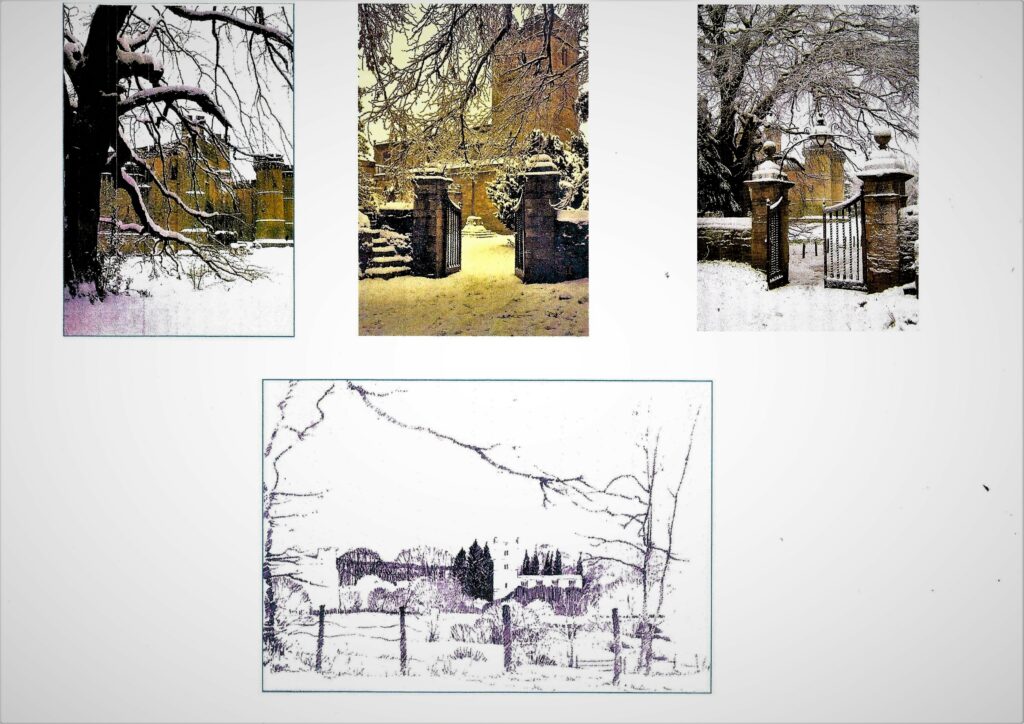 ---
Blank Greetings cards for your own message with envelopes
St Brandon's Church by Jon Hall Price £1.00 each or 5 for £4.00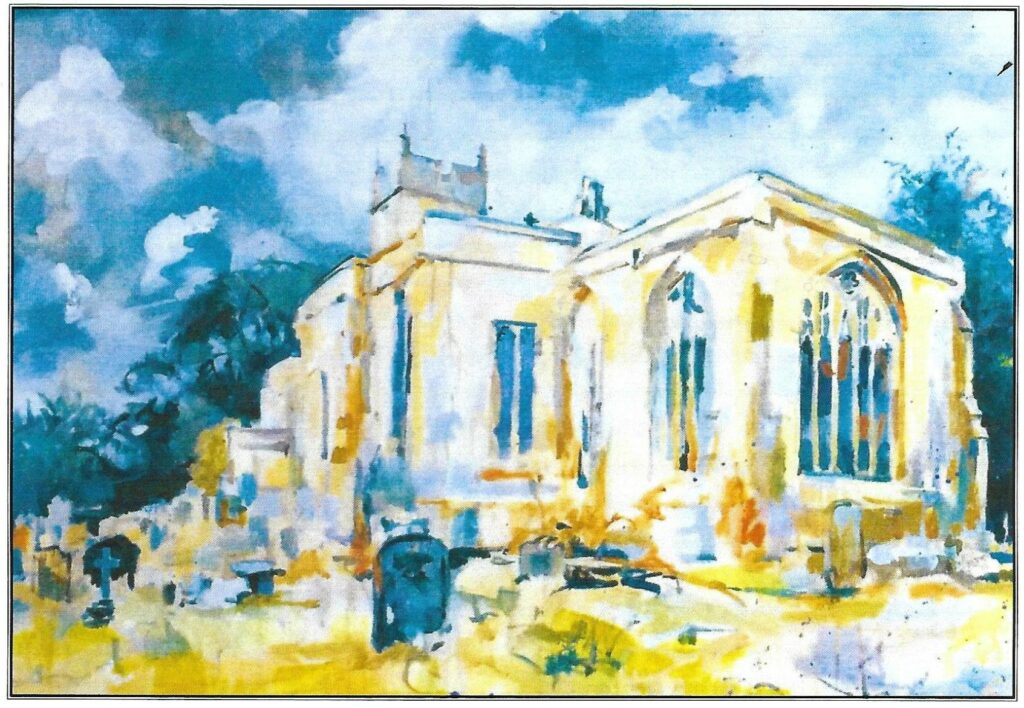 ---
The Group is a section under the constitution of Brancepeth Community Association. Membership is open to any member of the Brancepeth Community Association – currently £5 per year. Anyone wishing to join who is not already a Community Association member should contact the Secretary using the e-mail address below:
The Committee:
Chairman: Geoff Harrison (geoffharrison1@btinternet.com)
Secretary: Vivienne Lowe (17vivienne@gmail.com)
Committee: Dave Armstrong, Jim Merrington, Ruth Pickles, Ian Stoker & Peter Storey
---
Want to catch a bus from the Village? click here for live bus arrivals and departures to and from the village – type Brancepeth Village into the search bar.
---