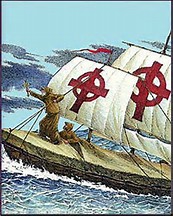 Brancepeth Village Festival
celebrates
Voyage of St Brandon 1500 years ago …
15th – 17th September 2017
Brancepeth village has discovered a unique link to an Irish sailor who became a Saint and is believed to have reached America one thousand years before Columbus. A weekend festival is to be held to celebrate his epic journeys 1500 years ago.

The village, four miles west of Durham City, found that its parish church is the only one in the country to carry the name St. Brandon. Brancepeth Archives and History Group (BAHG) set out to find the reason why. The result is a remarkable story of an Irish Saint who sailed his leather covered boat across the Atlantic and his adventures are recorded in a Latin book now known as " The Navigatio".

Brancepeth researchers visited Ireland to track down the story of Saint Brandon after investigating village records – reaching back to pre Roman times – to find out why a shrine to Saint Brandon was set up in Brancepeth centuries ago.

It was found that in Ireland, Saint Brandon, or Brendan as he is better known by the more modern spelling, is the second most famous Saint to Saint Patrick and his journeys in search of Paradise are commemorated in statues and ancient monuments throughout the world. As the patron saint of sailors St Brandon is even recognised by the US Navy! It was also discovered that when the Romans left the area, Irish missionary priests arrived and Saint Brandon may well have been among them and the name Brancepeth is said to derive from Brandon's Path which lead to his shrine.

Scholars believe the voyages of St Brandon occurred between 512 and 530, and will be celebrated in a weekend festival on September 16th and 17th called "St. Brandon 1500." Events will include a unique "Son et Fleur" – a music and flower festival – in the church where 12 major floral exhibits will trace the highlights of the voyages from encounters with sea monsters to volcanoes in Iceland.

Exhibits will each be "accompanied" by individual and appropriate musical excerpts from a world famous orchestral suite by Shaun Davey(www.shaundavey.com), who has given permission for his music to be used. Flower clubs and prize winning arrangers from all over the North East will take part. St. Brandon's Church was restored after a devastating fire in 1998 and now includes a new floral stained glass "Paradise Window" in celebration of St Brandon.

On visits to Ireland local historians met with Tim Severin (www.timseverin.net), the internationally renowned explorer, author and film maker, who famously recreated Saint Brandon's leather boat and journey to America. He has agreed to visit Brancepeth on the night of Saturday, September 16th, to give an illustrated talk on his adventures, his book and TV documentary.

St. Brandon 1500 celebrations will also include an illustrated exhibition in the Village Hall tracing the history of St Brandon and the famous Rectors of Brancepeth who played a role in the history of England. The Village Choir will sing medieval chants in the Church. There will also be an embroidered wall hanging depicting his voyages produced by members of Brancepeth's Knit and Natter group. Children from the local Stanley Crook Primary School are undertaking a history project which will also form part of the Exhibition.


Tickets and Information:

Friday, September 15th at 6pm St Brandon's Church – Special tickets required for the launch of "St Brandon 1500 Festival" with a preview of the Flower Festival set to music to be followed by a preview party in the Village Hall at 8pm and the opening of an Illustrated History Exhibition of the Church and its Rectors. A new BAHG book on the church history will also be launched. Admission by ticket only at £12 which includes 2 glasses of wine and a selection of canapes. Tickets can be re-used for further visits to the Flower Festival and Exhibition. Tickets are limited.

Saturday, September 16th from 10am until 4pm "Son et Fleur" – Flower Festival open to the public in the Church and an History Exhibition in the Village Hall. Admission of £5 to include both venues which will also be valid for Sunday. Refreshments will be on sale at the Village Hall.

Saturday, September 16th at 7pm for 7.30pm start – "St Brandon's Voyage". A not to be missed illustated lecture by Tim Severin. This will reveal how St Brandon's leather boat was recreated and sailed to America. Relive Tim's voyage and encounters as shown in his TV Documentary and recorded in his book. Admission £5.

Sunday, September 17th from 10am to 4pm. "Son et Fleur" – Flower Festival open to the public in the Church and History Exhibition in the Village Hall. Admission of £5. Refreshments will be on sale at the Village Hall.

Sunday, September 17th at 7pm. Special St Brandon's Service in the Church with the Bishop of Durham,The Rt Revd Paul Butler.


Tickets from the Archives Group on 0191 378 0974

Further information: Jim Merrington 01913780952 / jpmerrington@aol.com
Want to catch a bus from the Village? click here for live bus arrivals and departures to and from the village – type Brancepeth Village into the search bar.